Hanzesteden
1.039 keer bekeken
Hanzesteden: geschiedenis en gezelligheid
De Hanze is belangrijk voor de culturele identiteit van Europa. Daarom is dit gebied benoemd tot één van de 33 Culturele Routes van Europa. De Hanze was een verbond tussen steden die steun bij elkaar zochten in een tijd dat handelsreizen bijzonder gevaarlijk waren vanwege overvallen, roof en moord. De Hanze groeide in de Middeleeuwen (1200-1600) uit tot een machtig bondgenootschap, met Deventer en Kampen als belangrijkste steden. De kooplui voeren met Koggeschepen over de Noord- en Oostzee om handel te drijven in rogge, mout, laken, stokvis, hout en bont. De internationale oriëntatie, de pragmatische aanpak, de samenwerking en nuchtere handelsmentaliteit vormden de basis van het succes van de Hanze.
Lees verder

The Hansa towns merged into a powerful confederation in the Middle Ages known as the Hanseatic League. Many of these towns still exist today, particularly those in Overijssel and Gelderland. The Hansa towns were well-preserved and have become popular tourist attractions thanks to their palpable history and great atmosphere.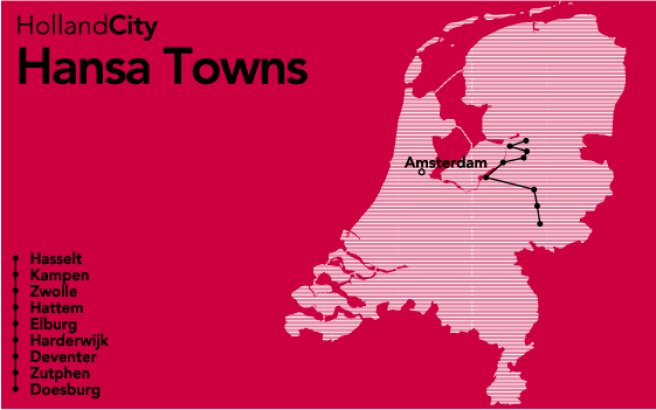 This historic Hansa towns are fun and attractive
Many of these historic Hansa towns can still be visited today in the eastern part of the Netherlands
The Lelystad-Zwolle railway, also known as the Hanzelijn, connects the Hansa towns in Overijssel and Gelderland.
These towns form an integral part of Europe's cultural identity, which is why the Hansa network was added to the list of 32 Cultural Routes of the Council of Europe. The Hanseatic League was a defensive alliance of towns that supported one another at a time when trade missions were particularly dangerous due to robberies, looting, and murder. In the Middle Ages (1200-1600), the Hanseatic League grew into a powerful confederation, with Deventer and Kampen as its main cities. Merchants crossed the North Sea and the Baltic Sea in cogs to trade in rye, malt, textiles, stockfish, and fur. The Hanseatic League owed its success to its international orientation, pragmatic approach, close collaboration, and level-headed merchant mentality.
The Hansa towns are attractive touristic hotspots
Many of the Hansa history can still be seen today. The Hansa Gothic style is still visible in many Hansa towns, such as De Waag alehouse in Doesburg and the warehouses in Kampen and Zutphen. Visitors associate the Hansa towns with cultural history, trade history, beauty, and fun. Their unique character, dynamics, and history are typical of the eastern Netherlands. This offers plenty of opportunities to attract even more international visitors.
The Lelystad-Zwolle railway connects the Hansa towns
The Lelystad-Zwolle railway connects the Hansa towns in Overijssel with those in Gelderland: Doesburg, Zutphen, Deventer, Hattem, Zwolle, Hasselt, Kampen, Elburg, and Harderwijk. The ultimate objective of the Lelystad-Zwolle railway is to position the Dutch Hansa towns as a must-see destination for international visitors.
For more information, please contact Jacqueline Lijs.