Districts
The distances in the Netherlands are small. Our country can best be seen as a metropolis divided into different districts. This is hard to understand for Chinese or American tourists, which is something we want to change! Altering this image will encourage tourists to visit more regions and cities in the Netherlands.
We should stress to our international visitors just how small and versatile our country is.
Different districts = something for everyone
NBTC helps cities and regions improve their unique, international profiles
Many international visitors consider distances in the Netherlands to be relatively small; they travel similar distances on their daily commute to work. Unfortunately, very few visitors realise this. Amsterdam, the country's dynamic downtown, is the most attractive hotspot to foreign visitors. But other districts, like The Hague, Leiden, and Utrecht, are not nearly as well known.
What international visitors don't know...
...we can tell them! The Netherlands welcomes an increasing number of tourists each year. Good regional distribution is essential to giving everyone the best possible experience. And this is certainly possible, as our country has plenty to offer. We just need to tell our international visitors about it. The challenge for all Dutch cities and regions is to invest in showcasing their own, unique DNA on an international scale.
The Dutch districts
The Netherlands has several metropolitan districts. These include:
Design District Eindhoven

Architecture/Port District Rotterdam

Lake District Friesland
Visitors can choose the district that best suits their needs and preferences. For instance, those interested in architecture will feel right at home in the dynamic and multicultural Rotterdam, with its famous Dutch icons. Visitors who prefer a more rural, water-rich setting will enjoy Friesland. And a trip to Amsterdam is absolutely in the cards.
NBTC wants to collaborate with Dutch partners to position individual cities and regions within the Dutch metropolis.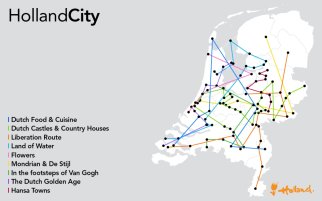 Storylines are an integral part of the HollandCity strategy and criss-cross the country like imaginary metro lines.
Read More